A traditional kilt can at all times be explained and understood. And so can a utility kilt, even if not always to the same degree. With a man skirt you at least can claim it to have been made for men, but taking the step to a skirt from a women's store your reasons might be less comprehensible.
Regular skirts you can, in theory, find just around the corner. But you shall probably soon realize that only very, very few skirts, designed for women, are suitable for a man to wear, does he emphasize a masculine appearance. "Boyfriend" style in women's fashion might be a possibility, but is not always hype and available. And kirts, fashion 2020, often are way too feminine, due to fabric and length.  And then there is the size. Men are bigger than women. And clothes meant for big size women seldom look smart and are often extra feminine to compensate for the size.  Add to that, that women's fashion, thase years, tend to focus on dresses, rather than on skirts. Now you are warned.
To go for
A wide skirt (A-line or wrap) with a fly on the front. The fabric should be rather coarse like denim or cotton. A "manly" colour like blue, black, grey, olive, khaki etc. is to prefer. Pockets (even if often not deep enough to be usable are fine too; and so are belt loops. About knee length (like a kilt) should be fine or somewhat shorter.
Men might without any problem at all - at least when among strangers - wear for example denim skirts made for women, provided anything else looks definitely manly, including the aura of the wearer himself.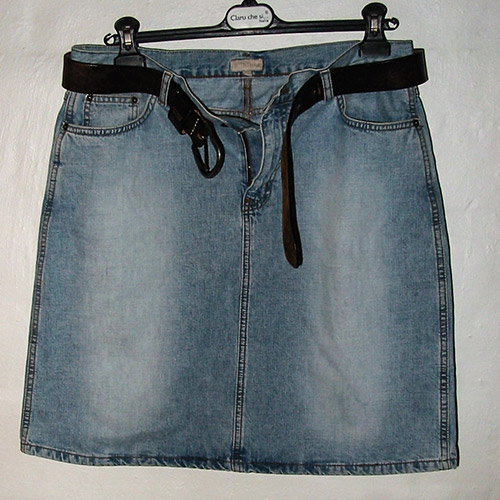 A classic denim skirt.
Blue denim skirt with buttons.
The skirt must not be "blue jeans blue".
Black skirt.
Denim in sand colour.
Definitely comfortable.
Don't forget to colour coordinate
To avoid
(Because femme) pencil or otherwise tight skirts, skirts with slits, light weight fabrics, most patterns and details only meant for decoration; the same with skirts closed at the back or to the side.
Due to anatomy a man's skirt cannot possible be as short as that of a woman. Too long, and/or too narrow, and the comfort argument cannot be used. 
Do I need to say, that you should now and forever forget about high heels, shaved legs, and other items connected with women's wardrobe or looks? It takes more than a proper skirt to appear femme, but not that much more! 
Still manly enough, or?
I think that men, putting emphasis on a manly appearance, should in general go no any further than to the man skirt. But the few possibilities taken into account, proper skirts designed for women might be included, like, about ten years ago, the Californian lawyer, known as WDP/Braveheart" did.
But else, leave women's clothing to the ones they were intended for - and to men having no other choice, but wearing female stuff, shall they feel happy.

If or when wearing a regular skirt, make sure your appearance is otherwise strictly manly. That's my opinion, my advice.
When in such skirt, stand up to it. It has been your decision, your choice. Never try to excuse that you are wearing it. Never look guilty or like had you a bad conscience. It is not a crime. Show to the world that you are
man
enough to pull that skirt. Wear it with confidence.  
Some pictures have been found on the internet, and in some cases it has not been possible to ask permission to use them. If not, they have been edited in order that no person can be identified. Should you have the rights to a photo used here and you don't want it to be published, e-mail me, and I'll remove it.
<! -- bottom container -->