<! -- leave it empty -->
Some established Scottish and American kiltmakers know that affordable kilts are the condition for having men start wearing kilts, especially those having no Scottish roots. What 'affordable' then means is another question, of course. I think up to £300 for a good kilt, but certainly prefer to pay less, or have the possibility. They will sometimes position them casual kilts, probably for not cannibalizing their more expensive ranges of kilts. The fabric often is high quality PV, but within this price category you can have 5-yard wool kilts too, which you can also wear to La Scala or The Met.
Kilts in this category are way more expensive than their Pakistani competitors. But are they better? They are. Are they worth the price difference? I'd say YES, even if I think 'established' kiltmakers and vendors should take care not to make the price gap bigger. Until recently (April 2022) you could have a Scottish made 5-yard kilt for about £135 (
Clan
). Now the cheapest one seems to be a 2-yard kilt, costing £35 more and it is ready-made (
Highland Store)
As a metaphor I could use the car market. The mid-price kilts made in Scotland or USA are Mercedes-Benz C Class; their more expensive siblings being E or S Class. The Pakistani kilts are just cars, which can be fine cars, but Mercedes-Benz they are not. However, if Mercedes-Benz one day by comparison should have become too expensive, quite a few, otherwise loyal or potential Mercedes-Benz customers,
might
start looking for a Volkswagen - and find it above all expectation.
Scotland
Most of my kilts are within this category and from
Heritage of Scotland
.
Heritage of Scotland used to make custom 5-yard wool kilts, sewn in Scotland, and sold under the John Morrison brand. They really gave value for money. For years they were to order from £151, and rather often with a 15% discount. Some tartans would add to the price, very many not, and you always had the choice of tartan weight and mill. They could be wool from Marton Mills, Strathmore, Lochcarron, House of Edgar, or fine PV from Marton Mills. In 2014 I bought my last kilt from them.
After that they increased their so called 'from' prices to £180 and after some time again to £200 or more, and now hardly a tartan was to have without paying extra. Around 2018, perhaps earlier, they were, no wonder, out of custom kilt business.
A good example of how to price yourself out of a market, at least seen from outside. But I really miss their John Morrison kilts.
Having no personal experience, really, my recommendations, regarding Scottish kilt vendors, therefore, is based upon what I have heard and read from other kilt wearers.
Only a handful of Scottsh kilt vendors are offering kilts costing £300 or less. These are:
£174 is the price for their
Essential Scotweb Casual kilt
including
20% British VAT. It is a five-yard kilt, which for casual wear is better than 8-yard kilts – to my opinion. You can have it any waist size and length you want. And the British made PV-fabric is of high quality. It comes in no less than 70 tartans. No doubt, this is a very good kilt, and probably still the one I should go for as my first kilt, if not the USA Kilts Casual, mentioned later.
According to CLAN it is "ideal for more casual occasions or for sporting events".
At a higher price, £231, you can also have a
Clan Scotweb Casual kilt
in pure new wool, thereby extending the usage area, direction formal wear.
Just below £300 they offer a 7-yard traditional kilt.
With CLAN
free freight
, also to Europe, is a possibility and worth taking into consideration when comparing prices.
has a Men's casual kilt.
has a 5-yard kilt below £300, and a
2-yard ready-made
kilt in pure new wool. It is to have in two tartans and solid black. They have a store in London where you can try them on and buy them,
66 Great Russell Street, WC1B 3BN,
open seven days a week.
Two yards are not much for a kilt, but I have tried one on, and it looked good. I regret that I didn't buy it. By then, in 2011, the price was less than half of what it is today.
With
you can have a 4-yard washable
4x4 Sportskilt
in PV with
slide pockets
. 4x4 refers to its ruggedness. Looks quite interesting.
Should you prefer wool over PV, a 4-yard
Casual kilt
is to have. It is just slightly more expensive, but then without pockets. Certainly a difficult choice. That the kilts are only 4-yarders it to my opinion not a problem for a casual kilt.
No doubt, House of Tartans should benefit from a modern designed website with better product presentations.
Kilts4Less
5-yard kilts from £200 after price-offs.
has a very well-designed homepage. Besides their imported cheap kilts, which they call casual, they also offer traditional kilts made in Scotland.
Their 5-yard
traditional kilts
are to have in several qualities, starting at £220.
Customer satisfactory is very high, according to Trustpilot and free freight is a possibility.
USA
High shipment costs and custom duties make American vendors non-competitive for European kilt buyers, with a few exceptions.
USA Kilts is a family company, owned and driven by Rocky and his wife together with dedicated employees.
Their
USA Kilts Casual
is a 4-yard kilt, made to your measures. The price is $119 for adults.
Europeans must pay customs duty etc. on top. The fabric 0is British made fine PV and the sewing quality is excellent. Delivered at your doorstep it shall, depending on the exact shipment cost, be almost the same as the equivalent 5-yard CLAN Essential Scotweb Casual Kilt, described above, or just a little bit more expensive.
It is a very rugged kilt and washable, which is a fine thing. Being closed by means of Velcro instead of straps and buckles it has no metal parts, making it the perfect choice when you must pass through airport security. I have been wearing my USA Kilts Casual onboard several airplanes.
CLAN Essential Scotweb Casual or USA kilts Casual?
It is a very close run. On the paper the Clan kilt might give you more value for money, and you can have it in six weeks, whereas USA Kilts need 13 weeks to make you a kilt. At airports the American wins. Should the fabric be the same on the two kilts, which might be the case, I suppose leather straps on the Clan kilt shall make it less washable than the Velcro closed USA Kilt?
If you are living in the USA and have no customs duty, high shipment cost, VAT, and custom clearance fee to pay on top, don't look any further. This no-nonsense USA Kilts Casual is THE kilt to go for. Buy one, two, three, five of them. Not because you wear them out, but for sheer variety.
.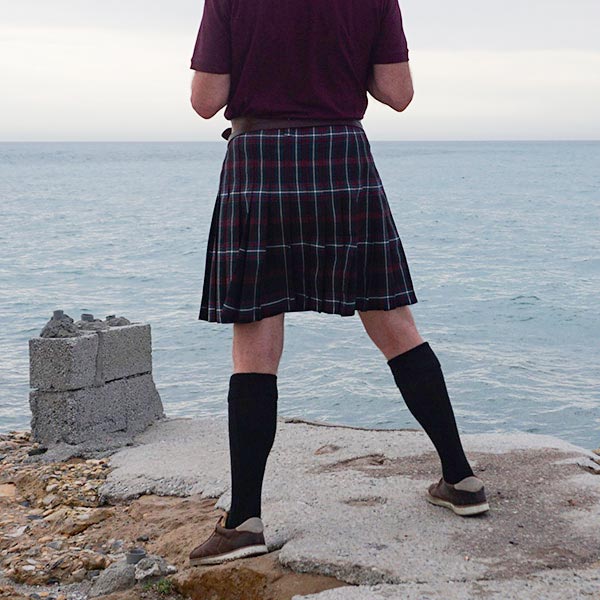 USA Kilts Casual, American Heritage tartan. Costa del Sol, Spain.
By the way, USA Kilts really do something to promote kilt wearing. Just one example are YouTube videos, where the owner, Rocky, gives good advice, wearing a kilt himself. It should be a natural thing; it not always is.
American Sport Kilt makes lightweight kilts for men, women, and children.
The Sport Kilt Original is only 8 oz. And the fabric looks and feels like cotton.
The price is $79.50 for the basic kilt in size Large. But then you can add a lot of features, like sewn down pleats (you should). Everything you will add to the basic product shall cost you. The sewn-down-pleats make the price go up to $93.50. The standard length is 22.5" but you can have it shorter or longer.
I have a Sport Kilt. Mine is with sewn down pleats, invisible deep slide pockets (which should certainly be standard with all kilts in 2022 and they shall cost you $24 extra), fringes, and belt loops. The thin fabric makes it a dream to wear under Southern European sun. If you can live without fringes and belt loops, you are at $117.50. This is as much as the USA Kilts Casual, which has no pockets, but belt loops and is much more of a kilt.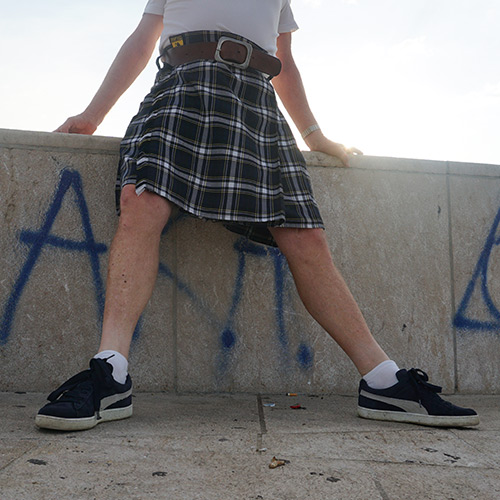 Ultra lightweight Sport Kilt. It comes as standard in a lot of different tartans. When ordering you can upgrade it to have sewn-down pleats, belt loops, and slide pockets, fringes, and straps and buckles. Loch Ness tartan, Split, Croatia.
Like the USA Kilts Casual the Sport Kilt is closed by Velcro. But you can have straps and buckles should you want to. 70 tartans are to choose.
For informal occasions where you might otherwise feel comfortable in shorts, the Sport Kilt Original is great – provided you don't expect it to be a traditional kilt. It is not. It's an unpretentious kilted garment of its own and for the mentioned purposes I can highly recommend it, even if freight and taxes shall more than double the price when sent to Europe.