<! -- leave it empty -->
You'll hardly get an 8-yard kilt in pure new wool for under £300 or the equivalent. It shall be much easier to find one costing twice or three times as much. Not all premium priced kilts are sewn in Scotland. Examples are USA, Canada, England, France, and Austria.
I never had and shall not have, I'm sure, the possibly to attend something where I should
need
this exquisite kilt setting me back several hundreds of British Pounds, American Dollars, Euros or the equivalent in other currencies.
For an evening in La Scala or having dinner at a Michelin restaurant less shall do.
This, of course, should not prevent me from buying such expensive kilt, should I just want to have it and admire the craftmanship and materials, having made it possible. But I also know, that had I one, I should hardly ever dare wear it outside, fearing that it somehow could be damaged.
If you should like possessing one, you might look for names such as
Kinloch Anderson, Geoffrey Tailor,
and
Slanj
. You can find them on the
Links page #1
. Before mentioned CLAN by Scotweb and others also have expensive kilts to offer.
Here I am going to concentrate on three one-man enterprises who on kilt forums have been praised for excellent work and, after all, are more affordable.
Barbara Tewskbury, USA
Barbara is an American kiltmaker, who is also a professor of geosciences and author of the book
The Art of Kiltmaking
.
Lady Chrystel, France
has specialized in making box-pleated kilts, including a kind of pleating, called
Kingussie
. Prices 700 € +/-.
Paul Henry, England
will make you an excellent traditional kilt, as well as kilts in tweed, denim etc.
An Austrian kilt made in Austria
If you are not Scottish and your kilt consequently doesn't need being Scottish in its expression, you might find this kiltmaker interesting.
Rettl 1868, Austria
In Carinthia in Austria high fashion company Rettl 1868 also makes top quality 'Austrian' style kilts, primarily to be worn at smart casual wear events, it seems.
I know of no kiltmaker who has done and still does so much for promoting kilt wearing as the owner of Rettl 1868,
Thomas Rettl
.
In his high quality, most professionally lay outet online magazines,
Rettl & Friends
his kilts are shown along with Rettl's other designs for men and women and also, he is making several events every year like
The Kilt Ski Day with various competitions.
Many locals will come in kilts, as a natural thing; men in Lederhosen and women in Dirndl also being welcome. 1st prize might include a Rettl kilt.
In the pictures, Thomas Rettl will most often be wearing a kilt himself. How often do you see Scottish kiltmakers in kilts?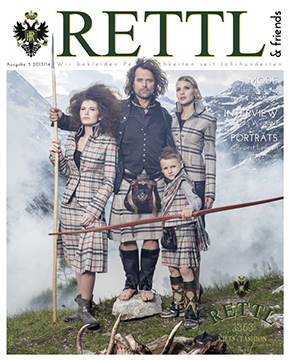 An example of the Rettl & Friends Magazine with high quality photographs and ads from companies offering high end products within other product categories.
The Rettl kilts have their own tartans and design, thereby being different from Scottish kilts. This is of course intentional. The same implies to sporrans, jackets, and other accessories. Therefore, judge the kilts from what they are, and don't try put them into a Scottish context where they don't belong, and are not intended for!!
Prices are around 650 € or approx. £535. Expensive, yes. But these kilts might be as durable as Austrian Lederhosen. They are made to be worn. And to EU-citizens neither customs duty, nor declaration fees apply.