<! -- leave it empty -->
Purists will say yes, because no less than a 16 oz. 8-yard wool kilt, sewn by hand by a skilled kiltmaker in Scotland or equivalent places shall do.
But are they right? You may judge for yourself, but do you wear the same trousers for all purposes? Could you think of wearing some cheap jeans, being fine for gardening, with your tuxedo jacket? Or the high waisted trousers with double braiding at sides from your white-tie evening tailcoat when shopping grocery? Chances are that you don't own neither black-tie nor white-tie attire, but I think you got the point.
The all-purpose kilt does not exist.
Let's be realistic. Even if a kilt is an extremely versatile garment, and you by means of accessories can use one and the same kilt for many functions, it has its limits.
Too expensive the kilt, the less likely it is that you shall wear it just for when out or about. Also, a luxury kilt is normally heavy, due to the fabric, and due to eight yards of it. This makes it less comfortable AND not suitable at all on a sunny July afternoon visiting Colosseum in Rome.
Too cheap, and you shouldn't feel at ease at dress-up events like a wedding or anniversary or at a Scottish gathering.
In other words, the all-purpose or universal kilt does not exist; and, like in many other respects, good for everyone is good for no one. Each at its own.
Which opportunities do you have for wearing a kilt?
Your specific choice of kilt must be a question of situations where you should be able to wear one. Looking at the way men's garments are often categorized, headings could be casual, smart casual, business-casual, semi-formal, and formal.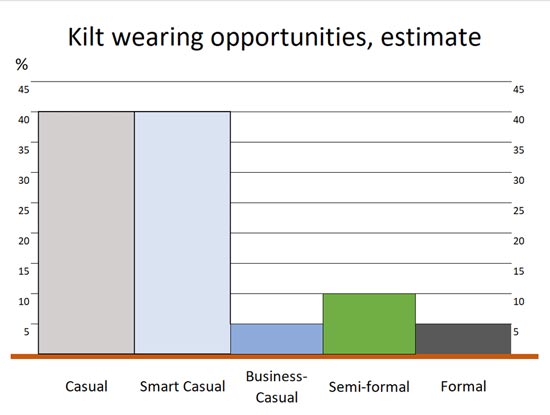 We spend more and more time dressed casually. Add to this that a kilt probably is only for you to wear in your spare time.
The categories should be self-explanatory, even if a concise definition might be individual. They also vary from country to country, even within Europe.
A general tendency is that we men are dressing more and more casually.
Formal events
(black tie and white tie) are not frequent. They could be weddings, anniversaries, and the like. For many men they are too seldom occurring events for investing in an expensive garment, thus in many cases resulting in hiring rather than buying. This also implies to kilts, of course.
If you, like me and many, many other kilt wearers around the world, have no Scottish roots, it is rather unlikely that you should ever be invited to an event, where formal kilt wear is an option or mandatory.
Semi-formal
is where you should else be wearing a suit (two- or three-piece). Examples are eating at high-end restaurants, or visiting opera houses, concert halls, and theatres. They are good opportunities for wearing a kilt but are hardly everyday events.
Do you miss
business-formal
in above figure? It is not a failure. The reason is that unless you own the company or have a job within kilt business, I consider it non-relevant. Should you, nevertheless, be able to participate in board meetings wearing a kilt, just think semi-formal wear.
Business-casual
might be a possibility on 'casual Fridays'. If so, you in principle have about 45 Fridays a year to wear a kilt. Should that be the case, the column should have been much higher. Most likely it is not the case.
Your spare time is where your potential for wearing a kilt really is. This means
weekends
and
holidays.
This means
casual
and
smart casual
.
General considerations
Which kind of trousers shall your kilt replace?
Related to above categories are different kinds of trousers, like blue jeans, shorts, chinos, and dark jeans, as well as those belonging to various 2- or 3-piece suits, including tuxedos and tails.
When it comes to kilts you should think in kilts to replace jeans, kilts to replace shorts, kilts to replace chinos, kilt outfits to replace evening suits and tuxes etc.
Should you strive for the very best – and most expensive - kilt, in general, as well as within categories?
Start looking at your wardrobe. What should a kilt replace or substitute? It is about you and your money and your possibilities for wearing a kilt. Don't automatically think that only the most expensive kilt shall do. Are your business suits all labelled Armani, Ermenegildo Zegna, Hugo Boss and the like, it might be true – if the kilt should substitute them, and not your shorts.
For people seeing you in a kilt, their first thought is not, whether your kilt is cheap or expensive. It is the fact that you are wearing a kilt. Probably it is their only thought.
Most people, outside Scottish environments, have only seen a kilt in pictures or on TV. They simply don't know how a 'real' kilt shall look like. They connect a kilt with tartans and perhaps pleats. How should they know about details?
Dress to impress?
No doubt, you know the expression, dress to impress. If that is what you have in mind, better than invest in that extremely expensive kilt think other ways. Only very few connoisseurs, whom you after all shall never meet, shall be able to give you credit for this Rolls Royce of a kilt.
Shirts with a logo, Ralph Lauren, Tommy Hilfiger et all, are signalizing something to most people. So do watches like Rolex, Philippe Patek, TAG Heuer, and Omega. Wearing them makes your thrifty kilt look like a million. The world asks to be fooled.
By the way, the newest iPhone makes it only 14 days, then everybody has one.
How should your kilt be made?
A skilled, experienced kiltmaker, doing every single stich by hand, can make a kilt a piece of art. It takes hours and hours and hours. No wonder that such kilt has its price.
That said, a skilled, experienced kiltmaker, primarily using the machine can make very, very nice kilts, too.
Even a woman with her skills only coming from making kilts day in, day out, perhaps in a factory in Sialkot, Pakistan, might be able to produce kilts like if by magic, if she was given just a little bit more time than when making the cheapest of kilts. It is called learning by doing.
I have been wearing kilts for almost 25 years. Except for arranged meetings, I think, I might have seen men in kilts maybe 20 times and only from a distance, making it not clear, whether the kilt was expensive or less so. Besides, I couldn't care less. The important thing for me was seeing another man in a kilt.
Are 16 oz. and 8 yards after all preferable?
If you want the 'tank'. Yes. The kilt with the correct swing, as they say. But less will do and might often be better – depending on the context in which you shall wear it. A 16 oz. kilt is fine on a cold day, or at a dress-up event. Formal clothes have never been comfortable, but that is the way it is. When temperature exceeds 5C/41F a 13 oz. kilt feels much more comfortable – to me. At 25C/77F I think an 11 oz. one is better, or an 8 oz.
To my opinion eight yards of fabric around me, even if lightweight, is quite a bit. If I have the choice, I say 5 yards for me; 4 or 3 yards being ok too.
Wool or PV?
Wool, no doubt, is the best-looking fabric. A minus is that a wool kilt cannot be washed, it must be cleansed. It is warmer in the winter – and in the summer - than PV.
PV is available in different qualities. Some cheap fabrics peel, others, especially those coming from British mills, like Marton Mills, are fine and make good kilts for casual and smart casual wear.
Which kilt for you?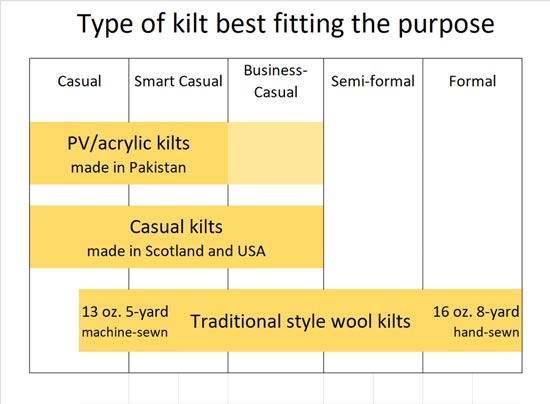 We spend more and more time dressed casually. Add to this that a kilt probably is only for you to wear in your spare time.
Your kilt should fit its purpose
The all-purpose kilt not existing, means that only one kilt must be a compromise and exclude some functions. Now, what is worse; either having to refrain from wearing a kilt at a wedding or when being on holiday in Rome? The wedding is for some hours, Rome perhaps for a week.
It makes sense to start with the categories, where you have the best opportunities to wear a kilt.
If, like in my case, it is in your spare time, meaning for casual wear, already a cheap PV/acrylic kilt shall in principle do the job. Some may come from China, but most of them are made in Pakistan.
All Pakistani kilts are PV/acrylic, the fabric on some kilts better than on others.
A step up the ladder, you can from Scotland and USA have
high quality casual kilts
made of PV from British mills. Especially here they are superior to Pakistani competition.
Looking at the figure the most universal kilt seems to be the
traditional style wool kilt
.
However, it covers most different kilts, ranging from machine-sewn 13 oz. or less, 5-yard or less kilts
intended
for smart casual/semi-formal functions up to 16 oz. or more, 8-yard or more, hand-sewn kilts for
strict formal wear
.
Typically, you can have these kilts in any tartan-weight you wish, in any tartan, you want, and it can be a 4-, 5-, 6-, 7- , 8- or 9-yarder, depending on vendor or maker. Makers of this type of kilts are to find in Scotland, but not only there. Other countries are Austria, Canada, England, France, Germany, Switzerland, and USA.
A 5-yard 13 oz. wool kilt shall cover most casual functions through semi-formal wear, thereby making it coming close to the universal kilt.
Depending on tartan and vendor it is in the £200-300 price category. For casual and smart-casual functions kilts can be cheaper, even much cheaper.
Something to pay on top?
For EU-citizens.
You might not only have to pay the price on the label.

Taxes and fees are boring to read and talk about. However, as they are a function of where you live, compared to where you buy your kilt, or rather, from where it is shipped to you, they are not without importance and should be taken into consideration.

Being an EU citizen, my knowledge is limited to trade conditions between EU-countries and between EU and third countries. If you are not one, just jump further to the buying suggestions on the next pages.
1. You order the goods in another European Union country = from to
When you and your vendor are both within the European Union it is extremely simple. You pay the price of the goods plus shipment, including 'his' VAT, and they are delivered to your doorstep without any formalities or extra cost, just as had you lived in that country.
2. You order the goods in a 3rd country = From to
All non-EU countries are 3rd countries. This means extra cost.
Customs duty
is to pay when the price of the goods is
exceeding
150 EUR or the equivalent in other currencies. For a kilt and accessories, it is 12% of
the customs value
. The customs value is made up of 1) the price paid for the goods, 2) the insurance cost, and 3) the shipping cost.
If VAT is included in the vendor's price, he should deduct it, prior to charging you.
VAT
, calculated on customs value plus customs duty. The rate varies within EU from 15% to 26%. You know what it is in your country, of course.
A
customs clearance fee
, a fixed cost, no matter the customs value. It varies from country to country and with transporter. You may calculate with about 20 EUR, equalizing 18 GBP. But could be less, could be more. On a £400 kilt it might be neglectable, but on a a pair of kilt socks costing £10, it triples the price!
3. You order the kilt from a Scottish vendor = From / to
Scotland is most relevant when talking kilts and accessories. UK is now a 3rd country, but with a
free trade agreement
. This means, in contrary to other 3rd countries, that
Customs duty never applies - PROVIDED 100% manufactured in UK.
This should be the case with a wool kilt made to your measures in UK. But if you from a Scottish vendor is buying a complete kilt outfit for over 150 EUR equivalent and part of it has been made in Pakistan, customs duty must be paid for the non-British part of it. The vendor is to fill out a declaration telling to which extent the goods are not 100% British. Most complicated.
Other conditions are the same as for 3rd countries. The 20% British VAT should be deducted before paying. Some Scottish vendors have prices ex VAT. A few, like Clan by Scotweb, automatically will find out in which country you are living. The price you see is accordingly what you have to pay, and sometimes even in your own currency. Depending on the VAT rate of the individual EU country, VAT is more or less neutral.
Really annoying
, compared to earlier, is the customs clearance fee.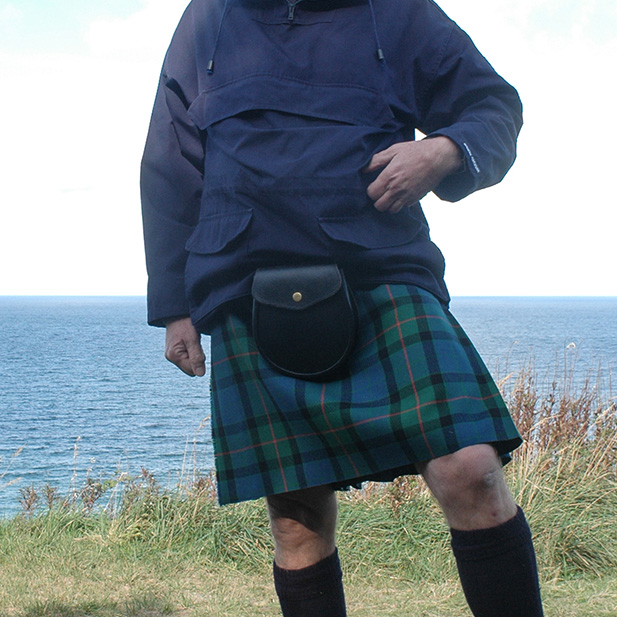 Due to the free trade agreament between UK and EU no customs duty applies on this 100% Scottish made kilt in pure new wool. But a declaration fee does. Gunn Ancient tartan.
---
Where to buy which kilt?
Out of probably hundreds of vendors, I only knew few, of course, and some, I know and should have recommended are no longer existing or are no longer on segments, where I should have given them my recommendation, like Heritage of Scotland.
After over 20 years in kilts on a regular basis, I do have some experience, however. And even if no guarantee, because things can change, I think i'm able to give you some valid advice. You'll find some suggestions a few pages from here, but before then it is about getting measures right and something as boring as customs, taxes, and import fees, having become relevant to kilt buyers living in the EU, after UK in relation to The European Union has become a third country.