<! -- leave it empty -->
A cheap kilt does not mean a bad kilt, not even if its price is considerably under £100 or equivalent! That the quality cannot be the same as you find in a kilt costing five or ten times more, is obvious. But for casual wear the cheap kilt might be good enough, and often even a better choice than an expensive kilt.
Until few years ago cheap kilts meant ready-made 8-yard kilts, 8-12 tartans to choose, 24 inch long, each one covering a 3-4" gap in waist size and made in Pakistan
(or China).
In the city of Sialkot in north-eastern Pakistan a lot of enterprises would make and sell kilts to independent vendors, primarily in Scotland and the US.
Ready-made Pakistani kilts are still a possibility, and they may be delivered within one week. Over the years I have and have had several of these "imported" ready-made kilts. Some have been and are still very good; some have been less so and some have been no good at all.
My advice: Avoid the cheapest of kilts. They are made to be cheap, which may not include good!
Week points: Quality of fabric, pleating, sewing quality.
The worst kilt, I have ever bought, was from a British vendor. It was called a Value kilt. It definitely was of no value. After a few wearings it started looking worn, and after a few more it started to literally fall apart.
Vendors of ready-made kilts
Heritage of Scotland and The Scotland Kilt Company
You may take a look at Heritage of Scotland. I have bought some very fine kilts from them. But alas, out of 15 kilts I should now only be able to find two my size. But this is an improvement. For a very long period of time they only had sizes fitting slim teenage boys or pretty inflated men, no matter the tartan.
I never bought a kilt from The Scotland Kilt Company, but their homepage looks fine and serious. Also, their accessories are looking good and prices seem most reasonable.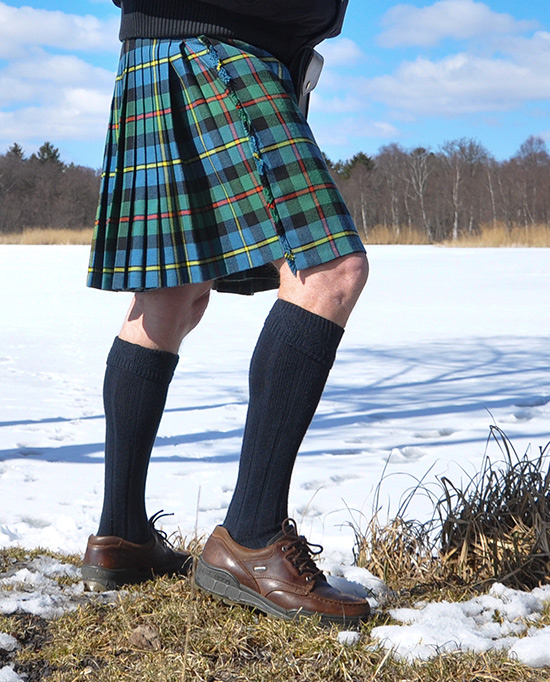 This 5-yard, approx. 16 oz. ready.made PV kilt I bought back in 2007 from Heritage of Scotland. I still wear it.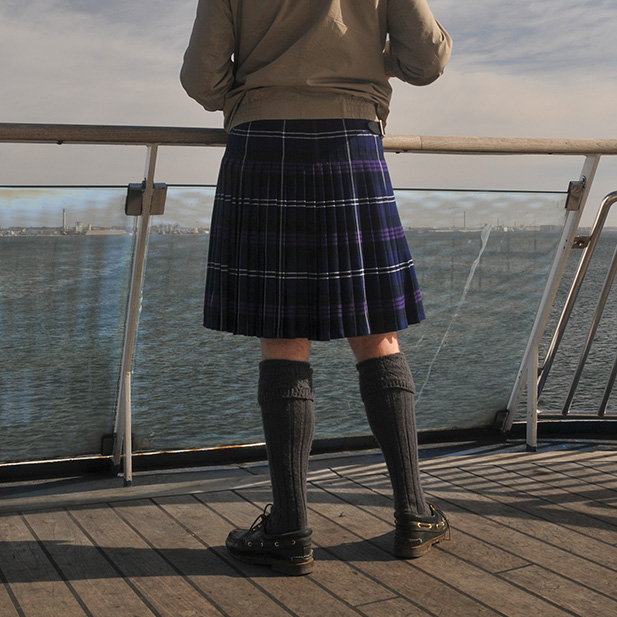 Heritage of Scotland Gents Full Deluxe Kilt, 8-yard ready-made, 16 oz. PV.
Vendors of made-to-measure kilts
The new thing is that very many kilt manufacturers in Sialkot will offer affordable kilts made to YOUR measures. This only works (or works the best) with a contact between manufacturer and customer. It can be with the manufacturer directly in Pakistan or a subsidiary/business address in USA, Scotland or within the European Union, like in France and Germany. Wherever you order the kilt, it is sent to you from Pakistan. Accordingly, this to a great extent means a good-by to the independent dealer or vendor.
Within the clothing industry, every added link in the distribution chain typically means high added margins – to become reflected in consumer price, of course. Therefore, every omitted link – which is the case here - means a possibility to reduce price, and/or giving the end user better quality for the same money. That's the reason why you can have a custom kilt at approximately the same price as a good off-the-peg kilt.
Also, made-to-order rather than made-to-bulk has environmental rewards.
The typical set-up is that you can choose between a lot of tartans, and between 5 or 8 yards, in some cases also 4, 5 and 7 yards, and have the kilt made to your waist size and hip size and with fell and length of kilt to your wishes.
No kilts made in Scotland can be found in the price category up to the equivalent of 100 GBP.
The big question, are these affordable made-to-measure kilts good enough?
Like with ready-made kilts some may not be, whereas others are fine kilts. Very good experience I have with two enterprises:
Kilt & More
, not to be confused with Scottish/German Kilts & More and
Championkilts.com
Kilt & More
Kilt & More you find in
USA (Kilt & More)
,
France (Kilt Homme)
, and
Germany (Schottenrock)
.
Like many other enterprises Kilt & More offer kilts made to your measures and at most affordable prices. Basically, they are 5-yard kilts, but should you prefer the kilt to be an 8-yarder, you just check this possibility and pay about 26€ extra, which is just fair.
That a manufacturer has a business address within EU, is no guarantee that you can avoid taxes, like VAT. The construction with your kilt being sent directly from Pakistan is no doubt within a grey zone. Sometimes you pay, sometimes you do not.
In October 2021 I ordered a 5-yard kilt in Moffat-tartan. I had not seen this tartan before, but I thought it looked good. I filled in my measures, paid via my credit card, and started waiting. I did not have the biggest of expectations. The price was 38€ and shipping 17€, altogether 55€, by then equalizing £47 or $63.
By the end of 2022 the price is 55€ and shipment has increased too, but this is a general tendency on the kilt market.
Only 22 days later I was advised by German UPS that a parcel was on its way. And the following day it arrived. No additional charges. End price including shipment 55€.
Later I have heard of three others having ordered a kilt with Scottenrock.de. One had not paid taxes, the two others had – but were still most satisfied with quality-price relation.
First impression
My new kilt came in a plastic bag which, no doubt, had been squeezed on a long journey between other hard and heavy packages. It hardly looked like a kilt. But after 20 minutes ironing with a tea towel between kilt and iron it took form.
I liked the tartan. Measures were as ordered. Sewing quality seemed very good. Pleating was fairly accurate, not perfect, but above average for an "imported" kilt. Also, the fabric felt good, even if a bit stiff.
Would I wear it to the opera house? No. But mainly because I have kilts, better suited for such purposes! For visiting a museum of modern art, it is great.
Could it stand daily use?
I have had this kilt for more than a year by now and I have really given it a try. I might have worn it not just 100 times but 100 days from morning till late. This might be more than most kilts are worn over a 10-year period. Worn out? Not a bit. The sewing quality has proven to be fine. The fabric has very little tendency to peel. That said, I have not been wearing a sporran with it.
My verdict
For most tasks – casual first – it certainly shall do its job and look great. At a normal distance between people, hardly anyone shall observe the few flaws in pleating, and should they, are all things in their own life perfect? Home, car, clothing or just life?

It is a durable, fine kilt, giving a lot of value for money. Would I order another kilt from Kilt & More? Yes, and without hesitation or reservations.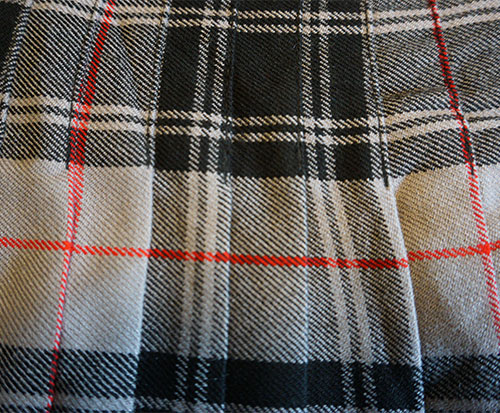 Some flaws in pleating,...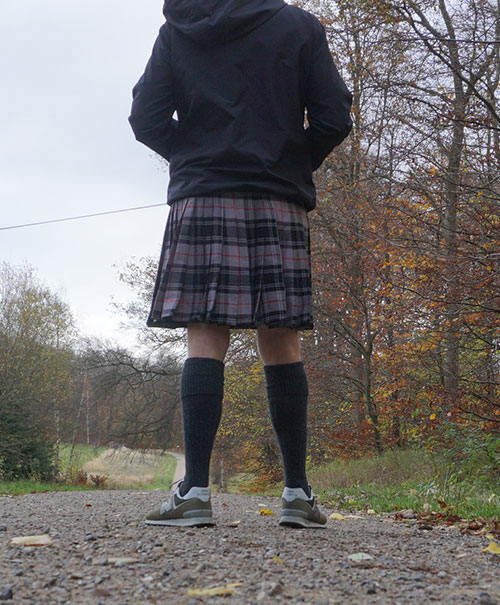 ...but from a distance the pleating looks fine.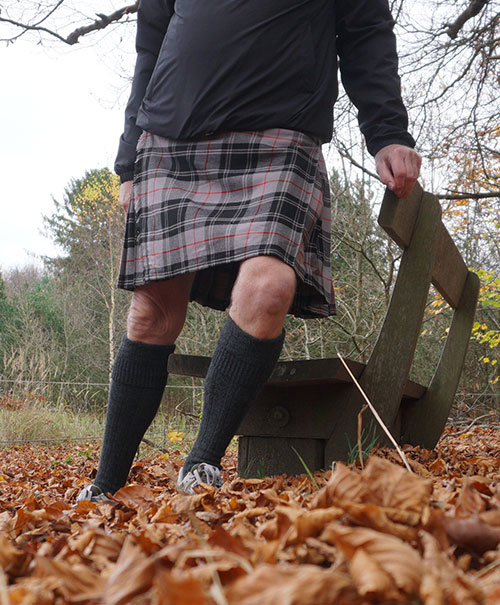 Moffat tartan.
Championkilts.com
A few weeks ago (December 2022) I came across another another vendor of Pakistani-made kilts, Championkilts. Their website looked good and functional, and they had some tartans which I had not seen with others, add to that pretty stylish accessories.
Should I give this company a try? I did. I am glad I did. Having just received my kilt I can say:
This kilt has almost blown me away; so good is quality of fabric, sewing, and precision in pleating. The price, $99 was higher than that of most kilts on their website, but it might be due to the tartan and fabric.
Nevertheless, it is the best kilt, I have seen, not made in Scotland or USA. Definitely it is, at this price, a Best Buy and thus Championkilts has my highest recommendation.
The tartan is
Hebridean Heather
, and it is an 8-yard kilt, costing extra $25.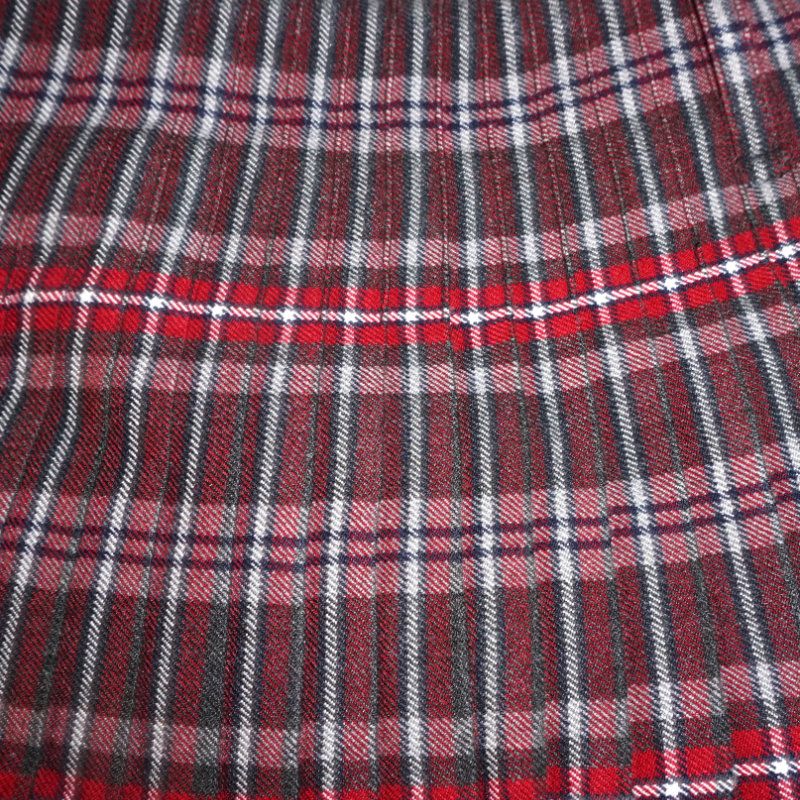 Perfect pleating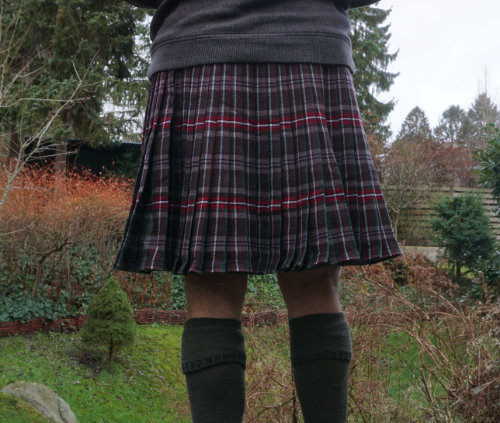 Beautiful tartan.
Would I wear this kilt to the opera house? Sure, I would.
On Links Page #1 you might find several other enterprises offering these most affordable made-to-measure kilts. With them I have no experience, however.
Kilt & More and Championkilts I can highly recommend.