<! -- LEFT COLUMN -- > <! -- END OF LEFT COLUMN -- > <! -- MID COLUMN -- >
A kilt must not have tartans.
Kilts can also be solid coloured.
And the fabric needs not be wool or PV. Tweed kilts are gaining popularity. Or how about a kilt in a nice camouflage pattern, or denim, or leather?.
They can be in traditional kilt style, or their design can deviate to the extent where they become utility kilts - or skirts.
Many kilt makers or vendors have these kilts in their assortment. Here, I shall simply link to already mentioned vendors if they are also offering these kilts.
Solid kilts are mostly about the same price as equivalent tartan kilts. Tweed kilts shall be more expensive than wool kilts. 'Imported' denim kilts shall often cost more than tartan kilts from the same vendor, whereas 'locally' manufactured denim kilts may be cheaper as their tartan cousins.
Camouflage kilts shall be cheaper, whereas leather kilts, what is to expect, are way more expensive than equivalent kilts made of in wool or PV.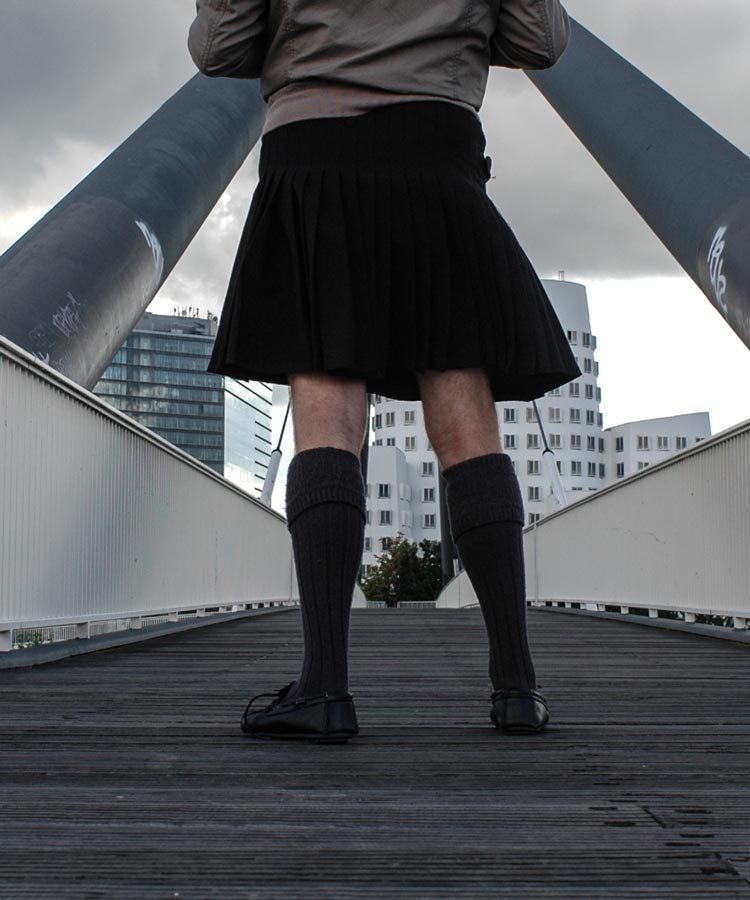 In a black kilt and flat loafers, Düsseldorf.
Accessories
How to accessorize kilt variants? There might be many opinions. My recommendations are: