Let's be realistic. Most likely, you cannot wear a kilt 24/7, even if you should want to. Probably your job should be an obstacle. Due to conventions or dress code. Accordingly, the kilt must, like shorts, primarily be something for your spare time. Here, however, you have free rein; provided, you have your spouse's support.
If so, you have 52 weekends a year, making 104 possible days. Add to this holidays and other day's off and you have a potential exceeding one third of a year. Just because you consider your kilt a casual-first thing and not an event-dependent phenomenon, like will most kilt wearing Scots.
If you, like me, live about 56 degrees north - same as Edinburgh - you'll in spring and summer have these fantastic light summer nights making it possible to wear your kilt for hours in daylight before and after job. Out in nature or in town. What is more fascinating than seeing a city waking up?
Want some suggestions?
You can wear your kilt when taking your dog out, 2-3 times a day, every day year-round. I do. And believe me, your neighbours shall soon be accustomed to seeing you in a kilt and wonder-why anytime you are in trousers.
The DIY market and shopping mall and electronic store and garden center are obvious places to wear a kilt. And for out and about in landscapes and cityscapes a kilt, being it traditional or of the utility type, is the perfect choice.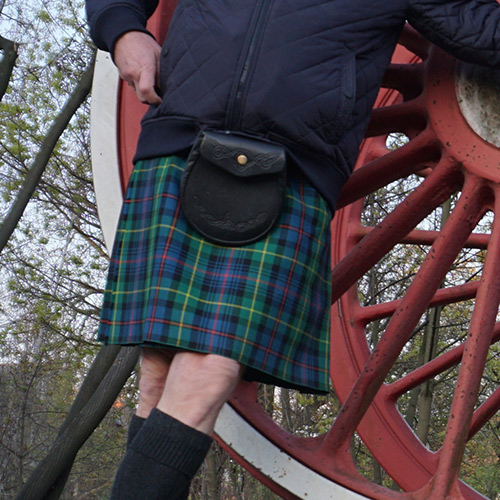 Goslar, Germany. Farquharson tartan.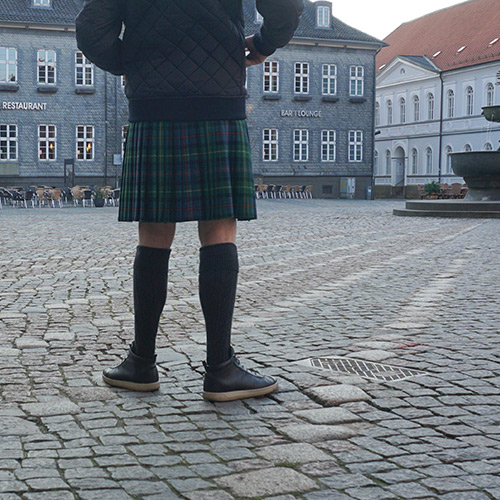 City square.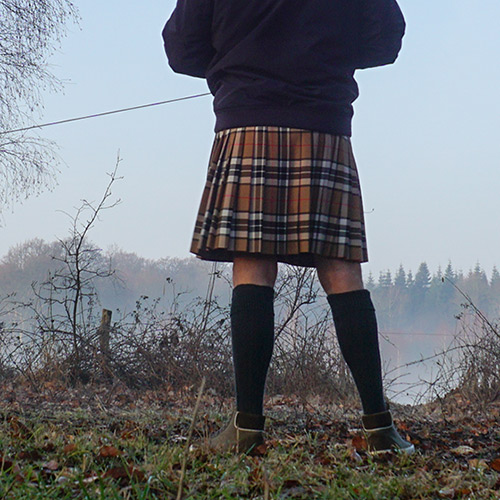 A few hundred metres from home. Thompson Camel tartan,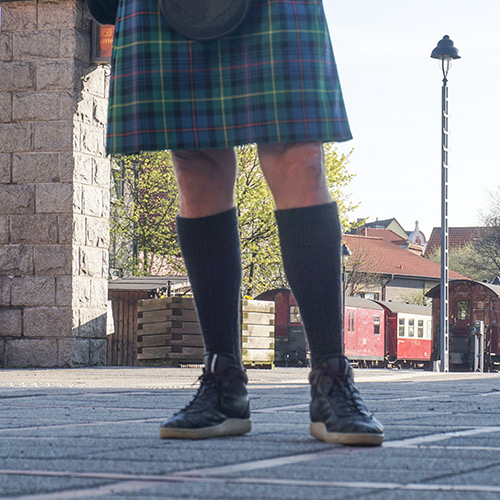 At the railway station. Farquharson tartan
And so, when shopping grocery, having a haircut, going to a bookstore, and driving your car to inspection.
A utility kilt or a worn-out traditional kilt, replacing jeans or shorts, is what to wear working in the back yard or driving to the recycling center.
And when on vacation, long or short, whether in your own country or abroad – time comes when it is possible again – bring one or two kilts with you; and wear them. At the breakfast restaurant, when going sightseeing, visiting museums or art galleries, having lunch and dinner.
And if you have also a kilt jacket with you, an evening at the opera house or concert hall or theatre can be something, you want doing again and again.
On vacation in a kilt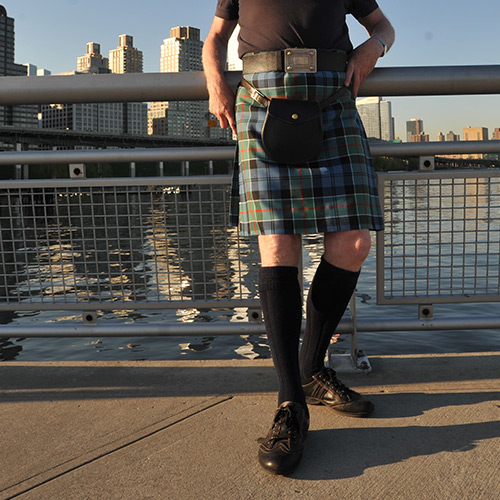 Kilted on Manhattan, New York City.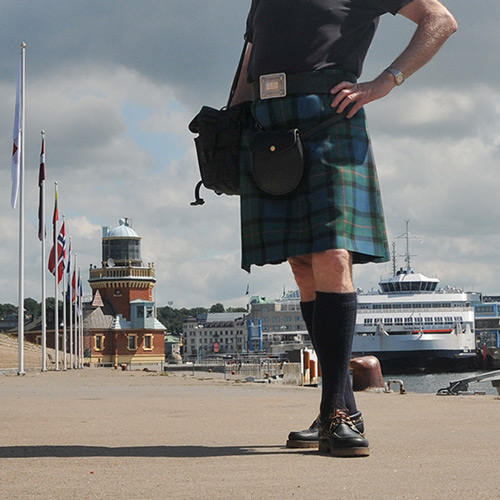 5 Yard Kilt. Gunn Ancient Tartan, Hälsingborg, Sweden.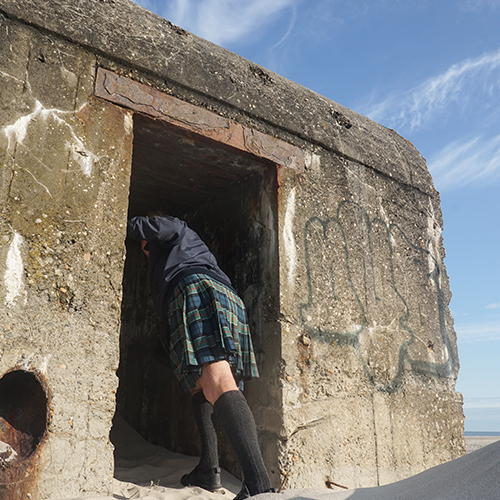 5 Yard Kilt. Colquhoun Tartan. At the Danish North See coast. A German Bunker from World War II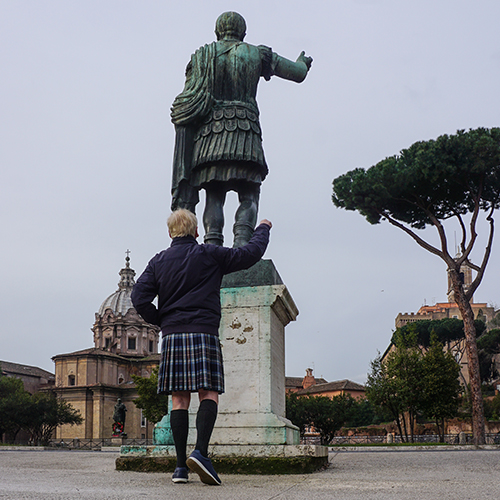 5 Yard Kilt. Holyrood Tartan, Rome.
By the way, have you noticed that above mentioned situations really are, with a few exceptions, all about casual and smart casual wear, where an affordable kilt and a few accessories shall more than do? Where a 5-yard medium or light weight kilt shall feel much better than an 8-yard "tank"?
Also, when travelling by flight light weight kilts are, for obvious reasons, to prefer over heavy and bulky ones.
Hopefully, you have found one or another thing to inspire you. Even if you have just looked at a few pages, you will know that this site is about casual-first kilt wearing. Hopefully, it has brought you closer to kilt wearing or to a higher frequency if you already are a kilt wearer.
Casual-first means new opportunities for wearing of kilts; it means a more laid-back approach to rules, but having no specific reason or excuse to wear a kilt does in no way mean that you shall or will sacrifice any manliness. There is more to that than a piece of clothing. Or some accessory.
Even if above mentioned situations have all been related to kilts, they do not exclude wearing of other skirted garments. Only, a skirt is less comprehensible to your surroundings, at least till more men dare wear them, than is a kilt, which all over the world is recognized being a man's garment. But should you, occasionally, want to wear a skirt, go wear it. And if your overall approach is manly you already are or might become a great ambassador for men wanting variety, comfort, and anatomy-fitting clothes.
For the sake of good order, let me repeat:
Whatever you wear, stand up to it. It has been your decision, your choice. Never try to excuse that you are wearing it. Never look guilty or like had you a bad conscience. It is not a crime. Show to the world that you are man enough to pull that skirt, whether a traditional tartan kilt, a solid coloured kilt, a utility kilt, a skirt designed for men, a unisex skirt or one simply looking manly enough to also be worn by men. Wear it with confidence. Like a man. As a man.
From here you might go to the following pages

Or check
What's New
for changes since your last visit. Or go back to one of the other pages. They are all below to choose.
What to find on the Dress2kilt site
<! -- bottom links --> <! -- ROW # 1 -->
<! -- row 1, left column -->


<! -- row 1, center column -->


<! -- row 1, right column -->


<! -- ROW # 2 -->