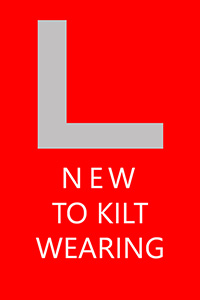 For the very first time in a kilt
A kilt is indeed something very different compared to trousers; the way it looks and how it does feel, wearing it.
This page deals with the process from having received your tartan kilt and some accessories till you are ready to go out and about in your kilt.
Imagine, it is a beautiful Saturday morning and from the bathroom ypu hear the doorbell. Your wife opens the door, and a few seconds later she shouts that your parcel from Edinburgh has arrived.
Fantastic. You knew that it was on its way and now you can wear it to the bakery and the supermarket before breakfast. You'll be in a kilt for the very first time.
You open the parcel. All ordered items are there, kilt, sporran, belt & buckle, kilt hose, garter flashes. And you have already prepared for the rest. You shall wear the kilt with a polo and sneakers.
But where to start and end wiih all the unfamilar things, and how make it correct?
For me, it is easiest to start with shirt, socks, shoes, and then garters with or with or witout flashes.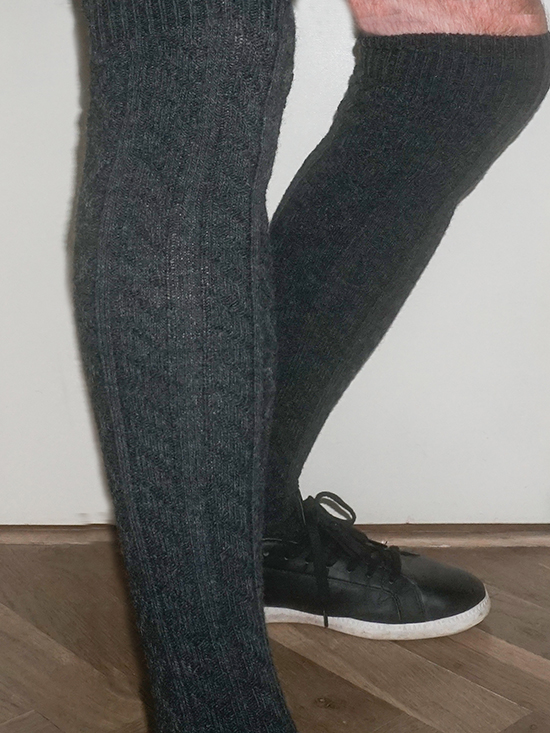 The socks are long; in fact, they are over knees. The reason is that they shall cover the garters.
When choosing kilt socks their colour should be in harmony with the colours of your kilt and top.
Black, charcoal, and white socks can go with most tartans.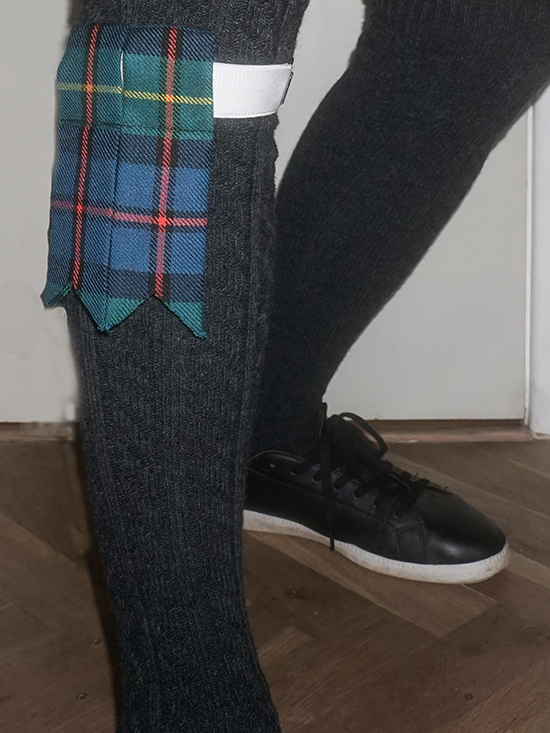 Fasten your garters 2-3 cm (approx. 1 inch) under your knee cap.
Here the flashes are mounted on the right leg. How to position the flashes? I have seen several suggestions on the internet. "9-15" o'clock should be OK, but better "10-14 o'clock", meaning the flashes pointing slightly forward.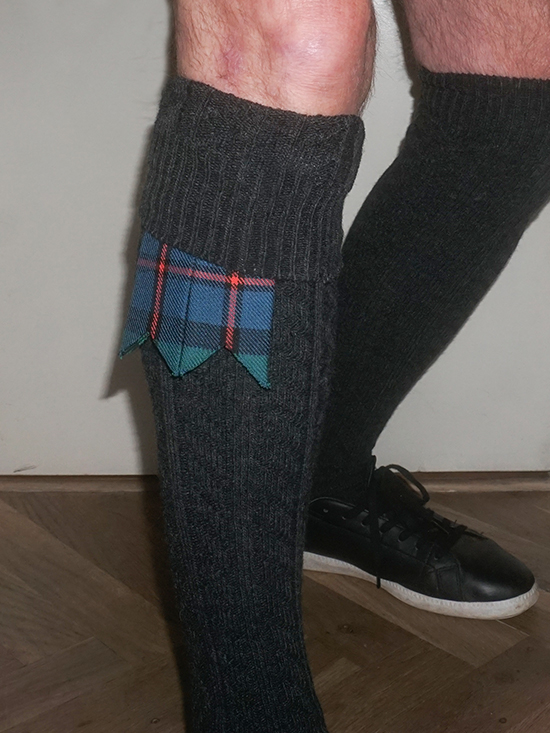 Fold the socks over the flashes. The garters should be totally covered, of course, and about half of the flashes should be visible. If your kilt socks are very long, they may have to be folded twice. Preferably the sock should sit a bit lower than in the picture, especially if the kilt is to the long side.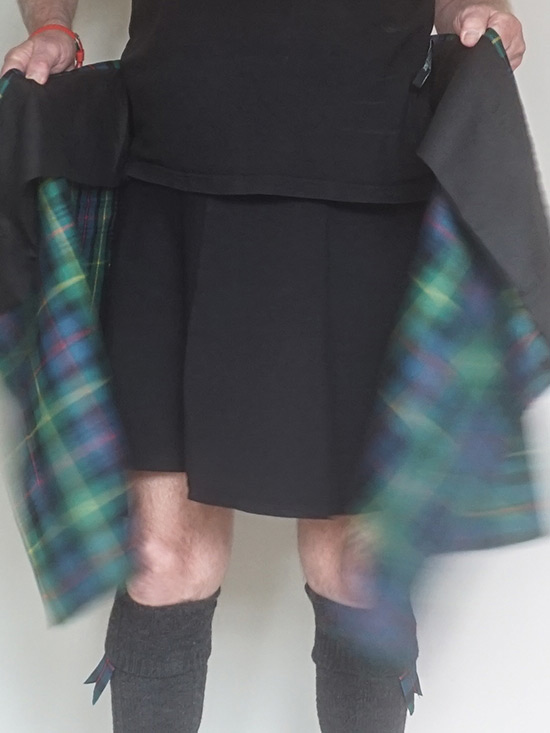 Now you are ready for the kilt. Put it around you. The pleats shall be at the rear of course. With your right hand you are holding what is to be the under-apron.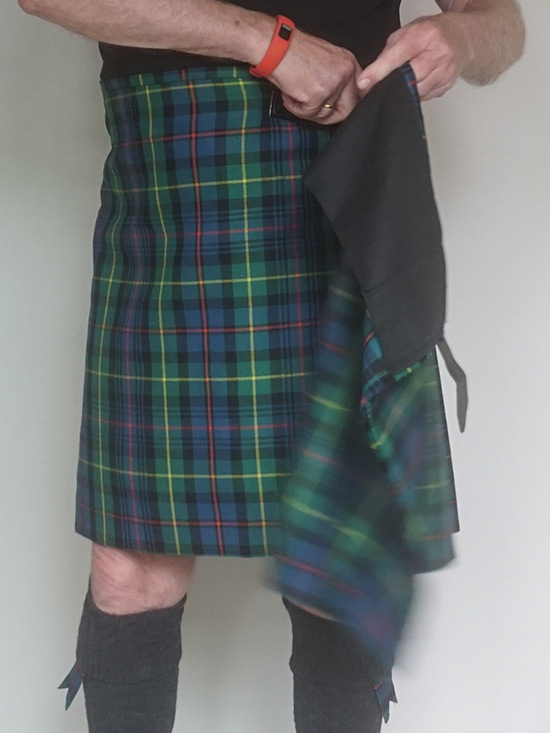 After having let the strap on the under-apron through the little slid next to the buckle on your left side, fasten it to the buckle.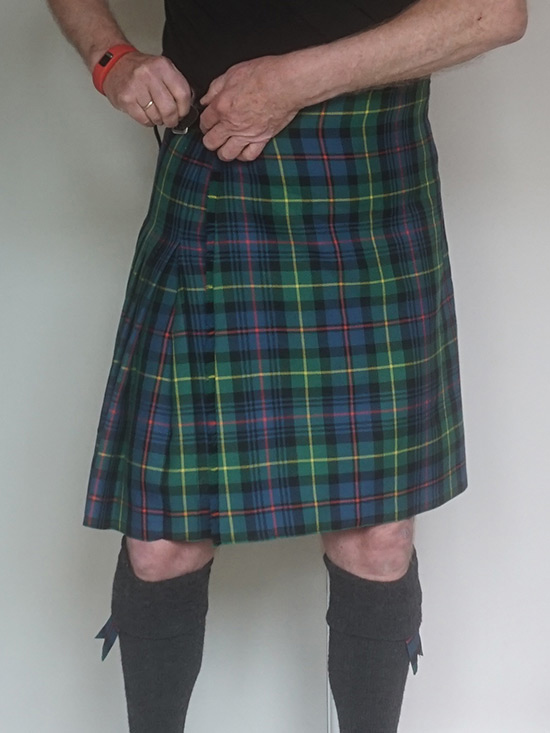 Then fasten the over-apron. For that you have a buckle above your right hip and often one more below it.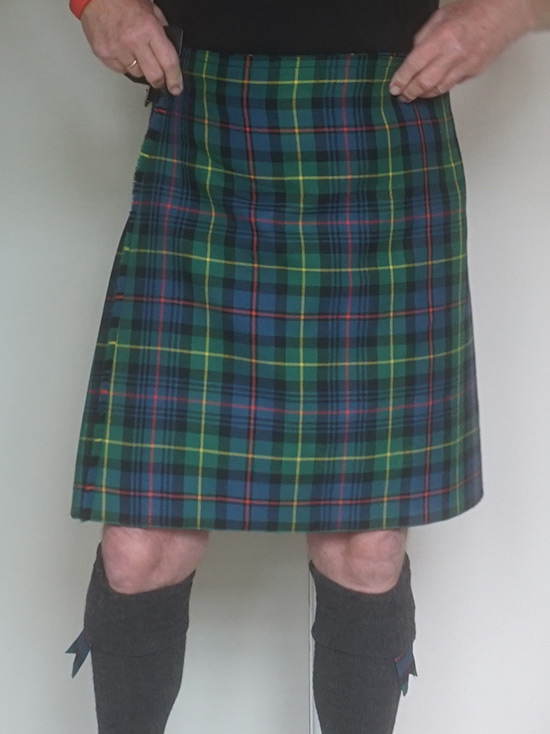 Take a look into a mirror. Should your kilt be lowered or heightened a little bit? Is it centered correctly? Make adjustments if necessary. As an indicator hold your thumbs on the belt straps at the back. Here the kilt is sitting correctly and the length is perfect.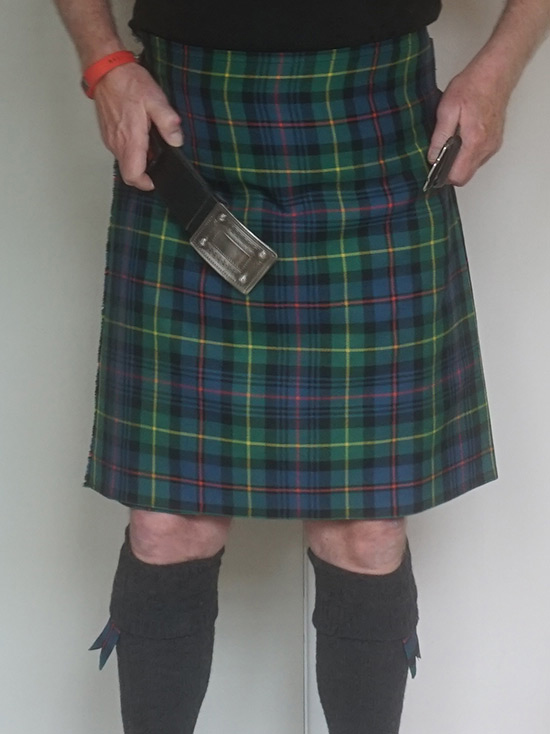 Time for the belt. It does not have to go through the belt loops. In fact, they are not belt loops but meant for your sporran strap! But being wide enough; why not use them for the belt, too? I always will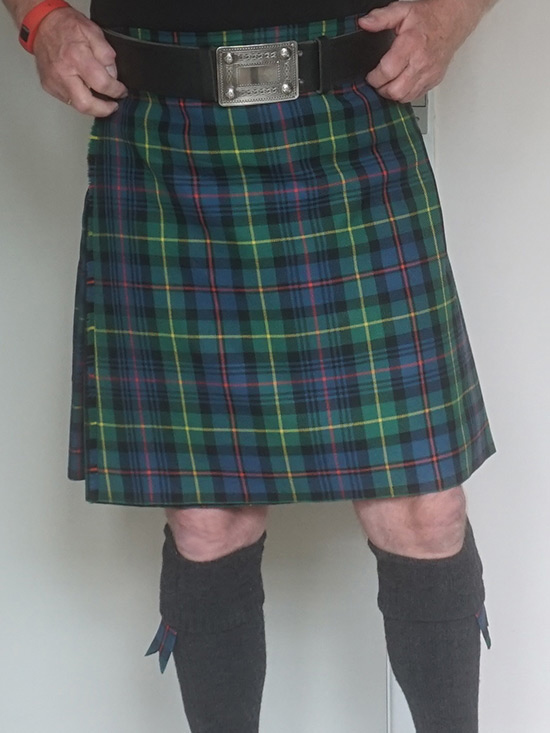 The kilt belt is in place, Some will say sporran first, then belt. It's a bad idea, even if it might be more correct. You need to be able to slide your sporran to the side. Dependent on the sporran strap it is difficult or impossible when the strap is fastened under the kilt belt.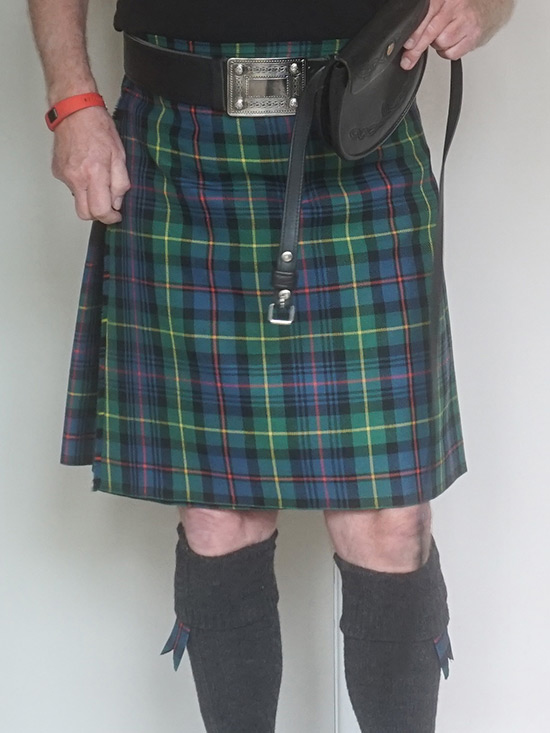 Now to the sporran. It shall hang on your front. This one has a leather strap.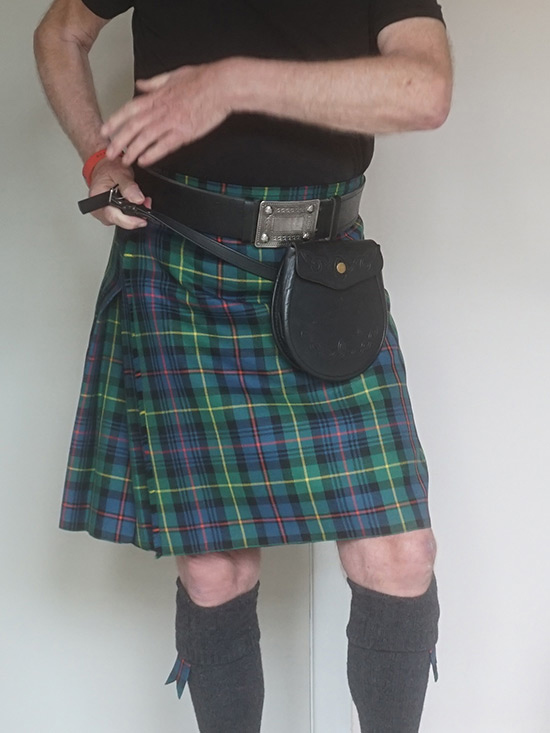 Don't have the sporran hang too low. About 7-10 cm (3-4 inch) or a hand's width below your belt should be appropriate. If your kilt is a jeans waist model the sporran might hang too low and you might better consider ditching it.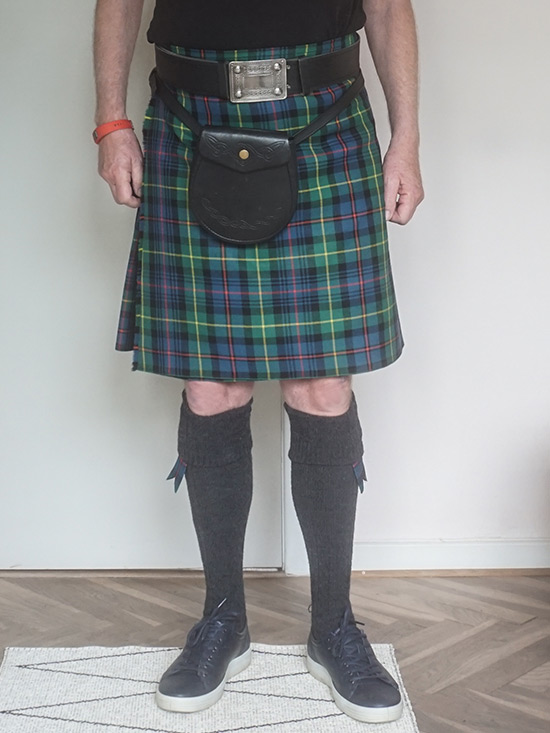 You are ready to leave - or almost. You need slide the sporran a bit to the left in order to level it. And for going to the bakery on a Saturday morning I should have refrained from wearing the flashes.
Complicated, you think? Believe me, it is not. When you have dressed to kilt a few times you'll realize that it is faster than with trousers.
What else to wear with the kilt?
Shirt
Any shirt you would wear with pants you can wear with your kilt, oxford shirts, polo shirts, t-shirts etc. But have them solid coloured and matching the tartan.
You sometimes see Scotsmen wearing diced kilt socks with their tartan kilt. Where it definitely is a no-go to mix tartans, it obviously is ok to mix tartans and diced patterns.
To my opinion, it is not a way to go, kilt or whatever else.
Shirt tucked-in or untucked?
Tucked-in is the general answer and on which purists insist. However, men today are increasingly wearing t-shirts and polo shirts untucked when in jeans and shorts; why should it be different when in a kilt for casual wear?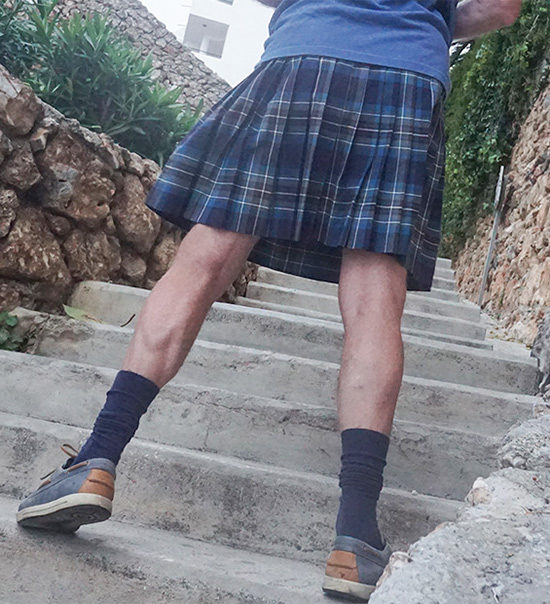 The shirt is untucked. Holyrood tartan.
Sweater
Over a regular shirt you may also wear a sweater. It should be untucked – and then you should probably not wear the belt.
Wind breaker
As outer wear on cold days a short wind breaker (bomber jacket) or anorak will do the job efficiently and look nice with your kilt.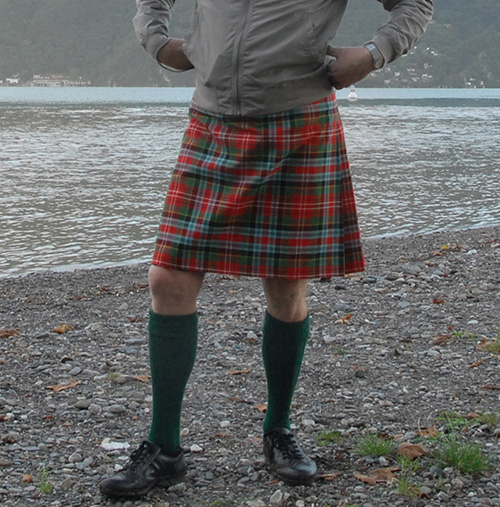 Short wind breaker. No sporran. Caledonia is a universal or fashion tartan. No clan connotation therefore. Green kilt hose matching the green in the tartan.
Foot wear
Wear shoes fitting the purpose. For casual functions sneakers will often do. Heavy-duty shoes and walking boots are also popular. Simply wear shoes which you should have worn at similar occasions and in trousers.   
Must I wear kilt socks when temperatures are high?
According to the purists, YES, but scrunching them down shall probably be accepted. On a hot day I think, however, that short socks or no socks or "invisible" socks are making a lot more sense than thick woolen kilt hose, provided the kilt is worn as casual wear and not to a wedding where a dress code must be followed.
Could I wear knee high socks, which are thinner than kilt hose?
No, not if rules are to be followed.
But again, if you think your calves must be covered and temperatures are high, and you are probably the only man wearing a kilt, which practically is always the case, I don't see why you should not.
But optically,
thin, non-tranparent
over-knees socks, which can be folded down under your knees like kilt hose, might be a better choice than knee socks. Then you must visit a women's store, however, or order online.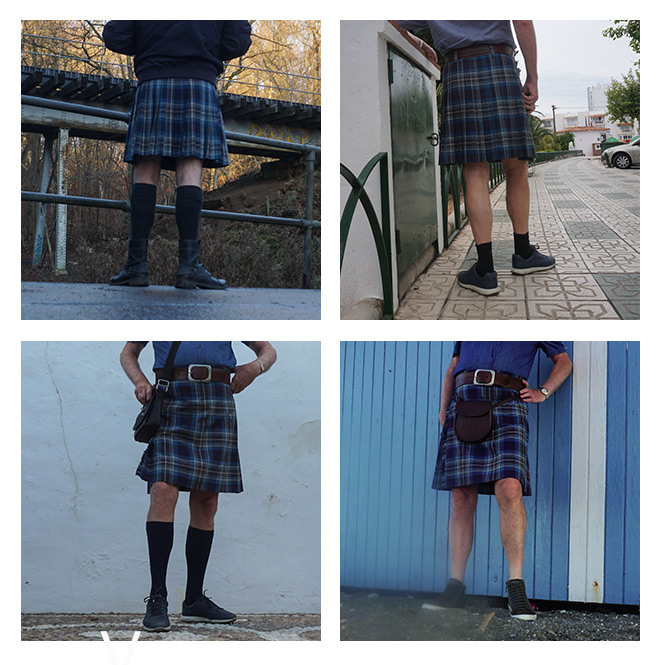 Clockwise, starting upper left; 1) ordinary kilt hose, 2) short socks, 3) invisble socks, 4) knee high socks.
Can I wear tights or leggings on a cold day?
The YouGov research, refered to earlier, indicated that some kilt wearers will wear tights and leggings under their kilts. On kilt forums, where it has been discussed, some are OK with it; others (most) are against. But after all you can see men wearing them under shorts, so why not? They should be non-transparent of course. And you might consider wearing kilt hose over your tights.
When HRM King George IV in 1842 visited Scotland (it was the first visit of a British monarch to Scotland in 183 years) he for the grand ball was wearing pink tights, described as "buff coloured trowsers like flesh to imitate his Royal knees under a rather shortish (meaning too short) kilt".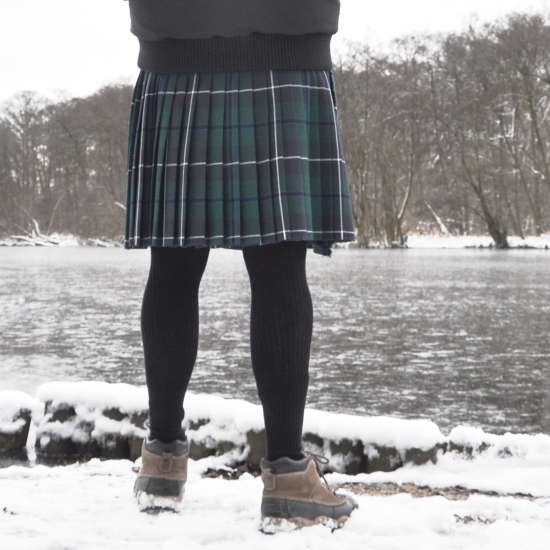 I think kilt socks are looking better, but if on cold days you feel more comfortable in tights or leggings, wear them.
Also, I feel convinced, that on bitterly cold days most people shall find tights or leggings the ONLY way to go for you.
So, even if not necessary, you may simply for that reason choose to cover your knees.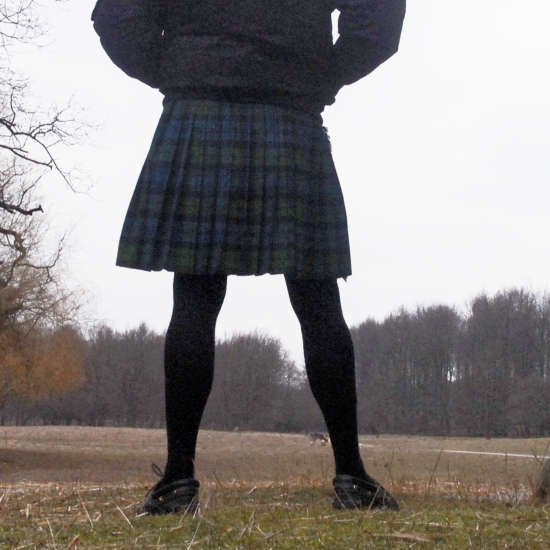 Tights as a fashion statement? Wearing tights and leggings under a kilt definitely is against rules, but considering we are talking casual wear, I do not see any rational reason, which should keep you from wearing opaque tights or leggings under your kilt, should you feel like it?
If I let go of the sporran?
If you have no pockets a shoulder bag is the obvious choice. Men do wear them already, so no big deal about that and suitable ones should be easy to find. For example
Eastpack
makes some nice shoulder bags. You can have them in about the same size as a sporran or you can have them bigger to accommodate a Mini-iPad or a regular iPad or a laptop. And in many colours. They are all unisex.
In crowded environments with pickpockets around the most secure place for your belongings might be a sporran for obvious reasons.
A shoulder bag should better be worn as a crossbody; and be closed, of course.

By the way, the kilt itself, being unusual and thus an eye catcher to some extent, might, compared to neutral jeans and shorts, provide some added security against pickpockets, these types wanting to be operating as unnoticed as possible. .
Colour coordinate
Think colour scheme when wearing a kilt. Colours of other clothing items should always be in harmony with one of the colours in your tartan or match them.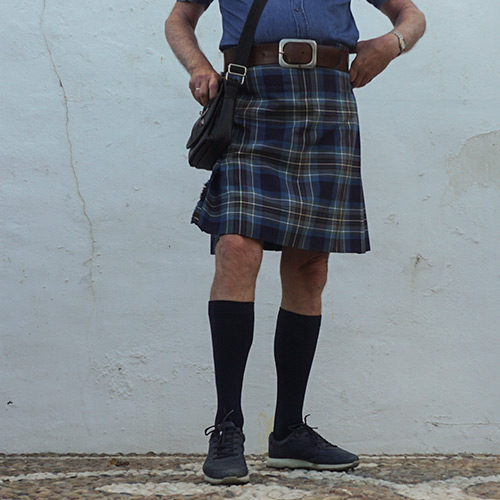 The colour blue is here dominating on a nice summer day at Costa del Sol. A blue kilt, Holyrood tartan, worn with a blue polo, navy blue knee high socks, and blue sneakers. A darkbrown G-Star Raw leather belt and a shoulder bag instead of a sporran. Leather things should be same colours, but a brown leather belt and a black canvas bag, meaning different materials, are OK.